Facilities > Jasmine Spa


Jasmine Spa at Sokha Siem Reap Resort
Our Jasmine Spa temporary closed
The Sokha Hotels signature Jasmine Spa offers pampering at its most luxurious level. The 21 treatment rooms available at the Sokha Siem Reap Resort & Convention Centre outlet provide the opportunity for you to indulge in the ultimate relaxation of mind, body and spirit. This tranquil haven offers a delectable range of body, beauty and spa treatments to choose from which will see you walk away as if floating on air.

Operating Hours: Spa Services and Treatments from 8:00am – 10:00pm
Capacity: 21 treatment spa suites with 32 spa beds
Body Message
Jasmine Signature Massage

The "graceful and heavenly scent of Jasmine," our therapists use their fingertips, palms together with special blended oil. This signature massage improves concentration and rejuvenates the spirit.
Four Hands Massage

The sensation of having 4 hands pressure with fingers kneading and squeezing your muscles can give you a unique experience, the energy release works out the stress and improves blood circulation.
Warm Oil Massage

A full body massage is a great option that can bring lasting relief to ease tense, tired, and painful muscles, backaches, rheumatic, and arthritis pains, benefitting from a virgin coconut oil.
Deep Tissue Massage

A massage therapy that focuses on realigning deeper layers of muscles and connective tissues. It is especially helpful for chronologically tense and contracted areas such as stiff necks, low back tightness and sore shoulders.
Sports Massage

This treatment releases tension held in every part of the body leaving you feeling deeply relaxed and recharged. Carefully applied pressures stimulate the nervous system. Swedish and neuromuscular techniques relieve muscular tension and lymphatic drainage helps encourage a healthy circulation. Stresses and strains are dissolved away.
Traditional Khmer Massage

Khmer massage has been practiced for hundreds of years, this focuses on energy lines with strong kneading style. Additionally, this massage provides relaxation, maintains flexibility, improves circulation & detoxification and a sense of well-being; and it also re- energizes body-mind-spirit connection.
Foot Reflexology

Delight yourself to a more than just feeling good. One of the popular and unique forms of foot reflexology naturally relieves stress and pain that are felt to glands, organs and parts of the body as this will help blood circulation and boost your immune system.
Ultimate head & back relief

This unique treatment helps to clear the mind, calm the spirit and ease facial tension resulting in rehydrated, nourished and protected hair & scalp. Special techniques are applied to the back with oil to relieve its muscle tension.
Energy Herbal Hot Compress

Hot compress have been used thousands of years ago to treat old injuries, muscle aches and swellings. This treatment combines the healing effects of an aromatherapy massage with the application of a steamed herbal ball.
Healing Stone Therapy

Exhale and relax as your therapist administers an advanced tri-phase stone massage therapy far exceeding traditional stone massage. Stone's synchronized therapeutic massage with micronized minerals, Malachite and Zinicte, de-stress your mind, body and your spirit; basically you're entire being.
Body Scrub
Khmer Herbal Scrub

This is a smooth and fragrant exfoliating treatment that blends dry Khmer herbals. This scrub will slough off the dead skin cells of your body leaving your skin smooth and radiant.
Aroma Salt glow

Make your skin have its radiant glow using sea salt infused with Ylang-ylang and lavender. As these delightful aromas entice your senses, the body is gently polished, rendering skin silky - smooth and mineralized as the salt dissolves negative ions and repairing tropical fruit are quickly absorbed. The skin emerges smooth to touch and visibly brightened.
Tropical Mango & Papaya

Tropical aromatic de-aging salt mousse delivers an aroma - sensory experience. Its fluffy lather removes impurities and toxins by gently polishing your skin.
Honey Tamarind Scrub

Scrub away the skin impurities with this all-time favorite Khmer exfoliating recipe, combining rich beauty benefits of fresh tamarind, honey and grounded brown rice that work perfectly revealing a new glowing skin.
Mondulkiri Coffee Scrub

This is done with natural ingredients like salt, sugar, ground coffee, ground rice, pecan hulls mixed with aromatic essential oils. It exfoliates and hydrates your skin, leaving it smooth and soft.
Organic Scrub

This luxurious full body scrub gently exfoliates and soothes away dead skin leaving your skin hydrated and soft.
Body Wrap
Tropical Mango

A seasonal fresh mango body wrap, drains toxins and impurities from your body while relaxing and smoothing you from within. Plain yogurt and wild honey are used to purify and hydrate your skin while delighting your sense.
Vanish my Pain

Restore and relax with a full body polish exfoliation followed by a full body mud mask while letting go completely with a scalp massage. Afterwards enjoy a warm shower to cleanse before your choice of moisturizer is applied to replenish the skin.
Tropical Papaya

Papaya body wrap. The healing property of papaya has been known to assist in repairing damaged skin by the sun. This relaxing wrap contains the anti-oxidant benefits from papaya, fresh coconut milk to cool the body, softening and moisturizing skin.
Facial Treatment
Khmer Herbal Facial

This facial scrub offers the perfect way to naturally clean and eliminate dead cells that accumulate on the face skin surface. A special blend of fresh Khmer herbs leaves your skin feeling wonderfully soft and refreshed.
Mini Facial

Special design on rush hour, it gently buffs away impurities, refines skin texture and deeply moisturizing.
Spa Botanical Facial Treatment

Fresh ingredients are used to cleanse, moisturize and freshen-up skin. Natural yoghurt, honey and other fruits are used to for this luscious treatment, suitable for all skin types.
Aromatherapy Facial

This purely natural aromatic face treatment oil soothes and calms the skin. It also helps regulate moisture balance. Jasmine, Ylang-Ylang, neori and lavender essential oil help ease dryness, wrinkles, fatigues and stress. Highly nourishing and toning, it renders the skin soft and radiant.
Jasmine Spa Ritual Package
Jasmine Spa Signature Treatment (3 hours)

Salt glow scrub combined with Jasmine Signature Massage including and Spa Aromatherapy Facial
Body Blissful (2 hours)

This is with Tropical Mango & Papaya Scrub with Warm Oil Massage and Spa Botanical Facial
Spa Invigorate Package (1 hour)

Deep Tissue Massage including a Khmer Herbal Facial
Traditional Herbal Package (1 hour)

Khmer Traditional Scrub with Khmer Traditional Massage
Couple delight Package (2 hours)

Warm oil Massage combined with Organic Scrub including and Aromatherapy bath
Waxing
Full legs
Half legs
Full bikini
Bikini
Under arms
Full arms
Upper lip and chin
Beauty Treatment
Spa Manicure
Cuticle-buffing-moisturizing-massage-polishing

Spa Pedicure
Cuticle-buffing-moisturizing-massage-polishing

Express Manicure
Trimming-cuticle-buffing-polishing

Express Pedicure
Trimming-cuticle-buffing-polishing
Make-up
Wedding Make up
Full Make-up
Light Make-up
Hair Salon
Hair Relax with treatment
Hair cut for women
Hair cut for men
Hair styling for women
Hair styling for men
Shampoo and blow dry
Spa Facilities
Steam and sauna
Hot and cold pools
Swimming pool Gymnasium
Only hotel guests and spa members may use of the facilities at the Jasmine
Reservations:
To make the booking, please dial extension "#2263" from your room's phone or contact our Duty Manager via 24hrs mobile number: 096 6161 567. Last reservation received of the day by 09:00pm.
Room Service:
Room service massage is not applicable unless requested by a couple or a family.
Additional charge of US$ 20.00 per treatment per person to be added into your bill.
Arrive Early:
Please arrive 15 minutes prior to your appointment time. Arriving late may possibly interfere with your treatment, making it not as effective or therapeutic for you. All appointments will end at their scheduled time so that the next guest will not be delayed. Treatment times are not extended based on late arrivals.
Cancellation:
We require at least 2 hours' notice to cancel or reschedule appointment for Spa treatment. Please understand that you will be charged 50% of the total price by changing your schedule without the minimum notice.
Medical Conditions:
If you have any type of medical conditions or ailments, please mention them to our therapist prior to your treatment. Certain treatments or products used may not be suitable for you. Kindly ask for assistance.
Valuables:
All of our Spa treatments are conducted jewelry - free, so please leave valuables in your room or Spa locker.
Smoking and Alcohol:
Smoking and the consumption of alcohol within the spa is strictly prohibited. Consuming alcohol or caffeinated drinks before or immediately after a treatment is not recommended. Minimum Age For safety reasons, we ask that all children under the age of 15years be accompanied by an adult when using any Jasmine Spa facilities.
Photos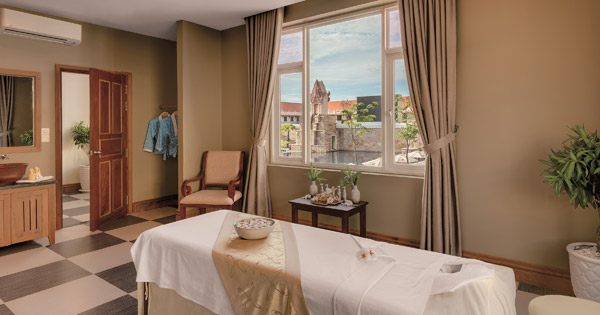 Prev
Next