Experience > Phnom Penh Surrounding
Phnom Penh's Surroundings
Other key destinations outside Phnom Penh you can visit and relax are:

Oudong Mountain
Located about 40 km northwest of Phnom Penh along National Route 5, Oudong was a former capital (1618 – 1866) before the capital move to Phnom Penh. Today, Oudong remains a sacred place where the construction of a huge stupa has recently been built to store and conserve the relic of Preah Serei Roek Theat (Ash of the Buddha). From the mountain top, Oudong offers magnificent views of the surrounding rice fields below and numerous palm trees that scatter the countryside. Many locals and foreign residents alike come to picnic here on weekends.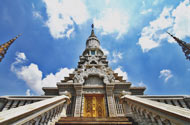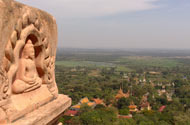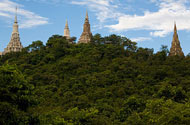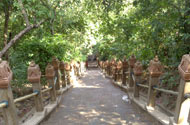 Chiso Mountain
Phnom Chiso is a historical site located in Sia village, Rovieng commune, Samrong district, about 62 kilometers south of Phnom Penh or 27 kilometers north of Takeo provincial town. Phnom Chiso temple was built in the early 11th century by King Suryavarman I (AD 1002-1050), who practiced Brahmanism. Constructed of sandstone and other stones, it is 60 meters long and 50 meters wide and sits atop a mountain. The top of the mountain affords visitors a panoramic view of Takeo Province rice paddies stretching for kilometers.
Ta Mao Mountain
Phnom Tamao is located about 45 kilometres from the southern part of Phnom Penh, traveling along the National Road Number 2 and continue another 5 kilometres down a dirt road at the right. Phnom Tamao is a popular destination for weekend travelers from Phnom Penh and other sites in Cambodia. It features mountains, the biggest national zoo and wildlife rescue center, and some ancient temples. The site is popular for the local visitors as well as foreigners because many species of wildlife are collected and it's the only official wildlife rescue in Cambodia. It takes about two and half hours' time to generally travel.
Angkor Borei
Angkor Borei is 20 km from the provincial town of Takeo town and 110 Km from Phnom Penh. It was the capital of the pre-angkorian kingdom of Funan (6th Century) and of Water Chenla (8th Century). The location is easy accessible by boat along a small river. Its museum displays reproductions of objects from this period and even some originals found in archeological sites in Indochina.
Kirirom National Park
Located on the edge of the Cardamom Mountains, Kirirom National Park is Cambodia's first established National Park with fresh air, beautiful waterfalls hidden within the forest, full of tall pine trees and wild orchid flowers. It locate in Kampong Speu province about 117 kilometers southwest of Phnom Penh and takes almost 2-hour drive from Phnom Penh.