Meetings & Events > Weddings
CELEBRATE YOUR LIFE'S EVENT AT SOKHA BEACH RESORT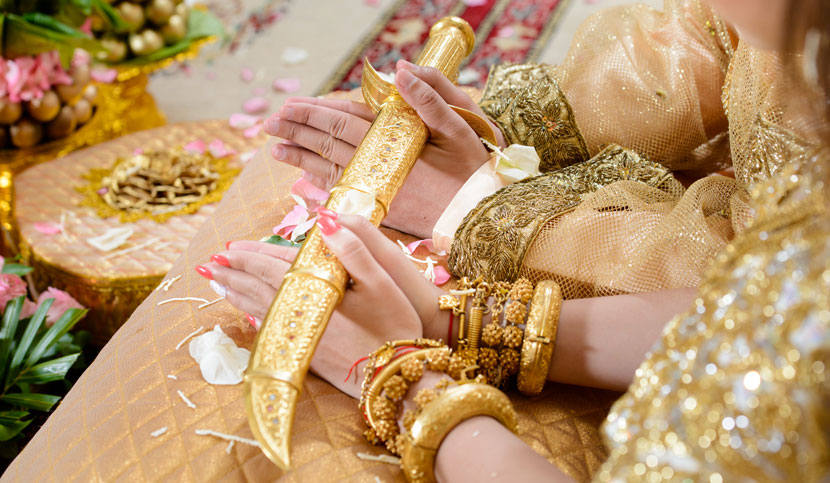 Congratulations to the new couple on upcoming wedding!
Appointments & Enquiries
Tel: +855 34 935 999. Ext: 2153
Email: sesv@sokhahotels.com

The magic of enchanting Cambodian tradition meets modern wedding perfection at Sokha Hotels & Resorts. Sokha Beach Resort offers unique wedding venues give an elegant ambiance to ensure couples the wedding of their dreams, No matter what your dream of perfect wedding is, it is sure to come true here! With our dedicated staff, ideal location & unique event spaces, the wedding you've always dreamed of is now within your reach. Save your date with us!

Sokha Hotels & Resorts delicate team of wedding planners will assist from picture perfect until the wedding day, a theatrical entrance from our luxury limousine to a fairy-tale wedding.
Contact an Event Planner
Planning YOUR SPECIAL DAY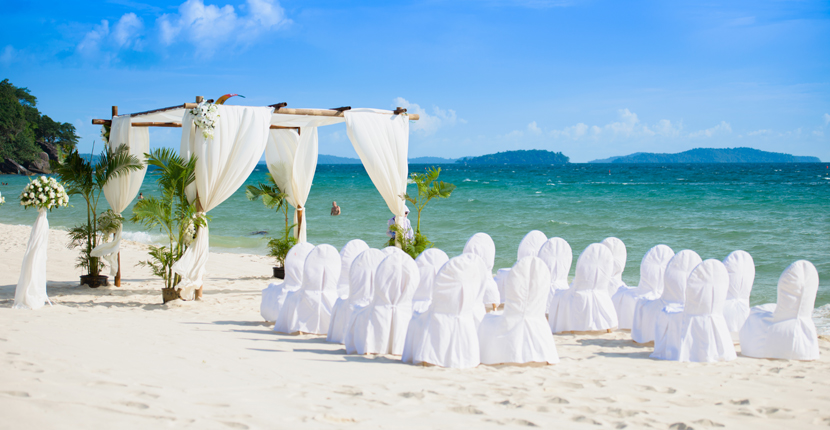 Sokha Beach Resort is the best selection for your elegant venue with 5 stars services, to fill your dream wedding of decoration and style.
Wedding Cake

Many choices of wedding cake prepared by our professional and talent chefs who are very details with art- decoration, to make your unique wedding looks modern and significance.

Traditional Ceremony

Celebrate Khmer traditional wedding ceremony at Sokha Beach Resort. The big space of grand ballroom and parking area are best venue available for your morning ceremony "Hae Chumnon and other necessary traditional program".

Arrive in Style

Make the entrance of a lifetime with Sokha Beach Resort's impressive selection of transportation with an elegant customized fleet of Limousine or Buggy or via helicopter from Sokha Beach Resort's private helipad.

Outside Catering

Sokha Beach Resort's professional catering team, talented team of chefs and culinary experts are on hand to help your outside catering from an elaborate banquet style dinner to a buffet-style.
Grand Ballroom

Sokha Beach Grand Ballroom is the largest function room in the resort, offers you the luxury venues with state-of-the-art facilities and world-class services for all your special events. With the spectacular architectural classic Khmer décor and finest sound-proof timber floor makes your guests more comfort, warm and intimate.

From executive conferences, board meetings, and international conventions, to creative incentive programs, group functions, and product launches, our expert team can assist you with all phases of planning and execution, down to the last detail. The Grand Ballroom can be divided into four large rooms and can cover up to 1,400 persons. Read more

Capacity:
Banquet: 960 persons
Contact an Event Planner

Seaside Garden

Relaxed with luxurious, guests can enjoy and breeze as they wine, dine and dance under the starts while surrounded by magnificent sea view, Stunning beach from an elaborate banquet style dinner to a buffet-style. Read more

Capacity:
Banquet: 500 - 600 persons
Contact an Event Planner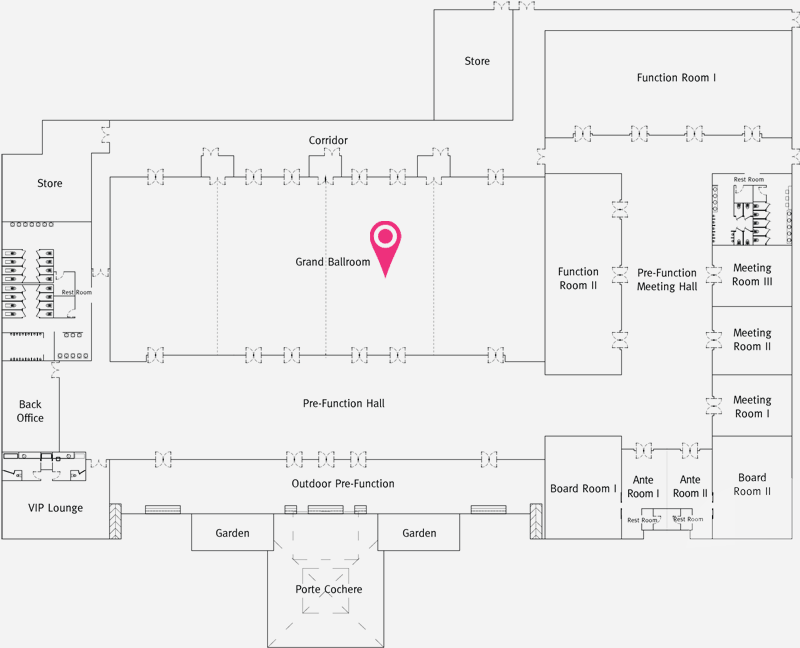 Close
Grand ballroom

Sokha Beach Grand Ballroom is the largest function room in the resort, offers you the luxury venues with state-of-the-art facilities and world-class services for all your special events. With the spectacular architectural classic Khmer décor and finest sound-proof timber floor makes your guests more comfort, warm and intimate.

From executive conferences, board meetings, and international conventions, to creative incentive programs, group functions, and product launches, our expert team can assist you with all phases of planning and execution, down to the last detail. The Grand Ballroom can be divided into four large rooms and can cover up to 1,400 persons.

Capacity:
Banquet: 960 persons
Contact an Event Planner

Venue Size

| | Measurement (Meter) | Area (Square Meter) | Height (Meter) |
| --- | --- | --- | --- |
| Grand ballroom | 56 x 22 | 1,232 | 6 |

Venue Capacity

| | Theatre | Classroom | U-Shape | Boardroom | Reception | Banquet | Buffet |
| --- | --- | --- | --- | --- | --- | --- | --- |
| Grand ballroom | 1,400 | 820 | 200 | 200 | 1,400 | 960 | 960 |
Seaside Garden

Relaxed with luxurious, guests can enjoy and breeze as they wine, dine and dance under the starts while surrounded by magnificent sea view, Stunning beach from an elaborate banquet style dinner to a buffet-style.

Capacity:
Banquet: 500 - 600 persons
Contact an Event Planner

Venue Capacity

| | Theatre | Classroom | U-Shape | Boardroom | Reception | Banquet | Buffet |
| --- | --- | --- | --- | --- | --- | --- | --- |
| Seaside Garden | - | - | - | - | - | - | 500 - 600 |